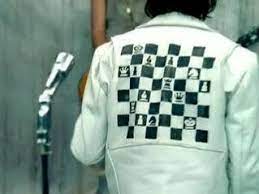 March 2nd 2022
Market Harborough 3rd v Anstey 2nd
By René Butler
Score: 2 v 2
Cyril Hill ½ – ½ Mike Griffiths
Alistair Geear ½ – ½ Borislav Lazarov
George Gower 0 – 1 Leo Abraham
René Butler 1 – 0 Oskar Rudczenko
Harborough 3rd remain unbeaten this season thanks to a 2-2 draw against upwardly mobile Anstey 2nd.
The season has seen Harborough out graded in the majority of matches, but here, Anstey were underdog on each of the four boards according to English Chess Federation ratings.
Boards 1 & 2
The top two boards of Cyril Hill and Alistair Geear were first to finish, both settling for half a point each.
Hill using the Black pieces squared off against Mike Griffiths's English opening on Board One, a game characterised by a flurry of early exchanges. In the middle game an attack spearheaded by Hill's Queen threatened mate, only for Black to defend with his own Queen bringing about the most significant of exchanges. The game would need daring endgame play if it was to be won. When only four Pawns remained for each player, a draw was agreed.
On Board Two, fresh from his spectacular tournament win in Doncaster, Alistair Geear fired up the Queen's Gambit against Borislav Lazarov. What he found was an Anstey man holding a frugal 1300 estimated rating. According to Li Chess, Lazarov's one mistake came on move 3 of 36 after setting up the Slav defence – and it was far from a devastating error.
Alistair soon overlooked an early Pawn grab on b7, favouring to play a3, possibly to safeguard against a potential Knight fork.
Both players eased into the middle game showing sound play – Li Chess users are familiar with the 'flat analysis line', suggesting a quality game.
By move 20, Alistair's position which included a Bishop pair, did not represent an advantage against Black's fianchettoed Bishop on g7 and a fluid Knight on e5. Again, this, according to Li Chess. Come the end game a draw would have seemed fair to the naked eye: Five Pawns and a Rook for both. Yet Li Chess and its smug oracle had Black with a nominal advantage. Alistair must have sensed this as he isn't known to accept draws without reason.
Boards 3 & 4
The 1-1 score line mounted pressure on boards Three and Four. George Gowers and René Butler (me) needed to muster up one and half points for a Harborough win.
Board Three had begun with the Four Knight's opening, initiated by Anstey's Leo Abraham. The junior then chanced his arm transposing into the Noa Gambit, so called as White sacrifices a Bishop for the f7 Pawn, putting Black in a world of trouble unless they remain calm. George navigated the hazard and castled by hand. His light squared Bishop and a Knight then engineered a position where White's Queen had to abandon its defence of the Knight on F3, but a hasty Knight exchange soothed White's worries.
The game was still in George's favour, when his opponent offered a draw he glanced at Board Four. Had the situation looked more promising for Harborough, George would have accepted, but matters were far from clear.
The game on Four, featuring captains René and Oskar Rudczenko was mostly played at blitz pace. Rash Queenside management from both before René honed in on a backward Black Pawn. With Queens off, it should have been a routine affair. But when is it ever? Disaster loomed for René as an impulsive Rook exchange provided Black with a Bishop sacrifice on b4 and critically, the bounty of a passed Pawn. Thankfully, the opportunity was missed. The end game presented further chances for both players until the pace eventually slowed, allowing White to come out on top. Not one for the purists.
Meanwhile, on Board Three George had succumbed to a royal Knight fork, losing Queen for Knight in the process. He was still alive, but needing a mega Abraham's blunder to get off life support. George impishly enquired: "Don't suppose that draw is still available…?" Abrahams's replied: "No, I'm good thanks." Indeed, he was, securing a win against a higher graded opponent and a 2-2 draw for his team.
Like minded clubs…
The match was the second part of a Harborough v Anstey double header. Harborough 2nd hosted Anstey the night before, losing 3-1. The 5-3 aggregate score line in Anstey's favour avenges their losses from the reverse fixtures last Autumn.
Aside from their new and improved players, Anstey folk certainly have a keen sense of humour – not something which can be easily credited to many chess enthusiasts. Ahem. Being able to share banter, a beer and go through games together furthers league chess as a social pursuit, it also enhances the friendly rivalry between two like-minded clubs.
By the way…
Despite the dropped point, Harborough 3rd and Syston 1 stare the only unbeaten teams remaining in the Leicestershire and Rutland League. This is of course where the similarities end between the two sides.