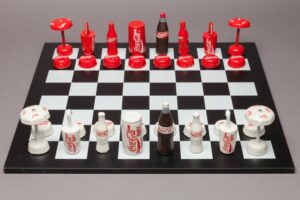 24/11/2021
Loughborough 2
Market Harborough 3
Score: 2 ½ v 3 ½
By René Butler
The long trip north to Loughborough on a cold, dark Wednesday night is perhaps the football equivalent of Stoke away. Full credit to the six committed chess amateurs from Harborough Three.
Loughborough's home venue, the Fennel Street Club, has undergone a swish makeover since our last match here. Their playing squad has seen a similar rejuvenation, during the match, eight or so social games took place involving new members, many of whom are students. One of the new crowd, Lewis Jeffrie, was pulled in at the last minute to play on board four v Gary Joy, a recent recruit of Harborough's. Second Team captain and league grading officer, Stewart Gordon, made an on-the-spot rating estimate of 1400. Judging by Jeffrie's standard of play, the judgment was, perhaps, frugal.
Gary met Jeffrie's e4 with The Scandinavian. The game was sharp, with both players setting out firm pawn structures and giving mobility to their minor pieces. Gary made just one noticeable mistake. It came in the middle game when he played Pawn c5. White was gifted licence to a dangerous Knight fork which annexed two Pawns. The big guns then came out and after a few exchanges, White was even more material up. The game was beyond retrieval. Harborough had already taken a three-nil lead in the match by the time board four concluded. At 3-1 we were confident of the two points.
One of those three wins came via John Oliver on board two. John played with the black pieces against Reece Whittington. As with all his teammates, John was out graded – in this case by more than 200 points. This is however, a season where the years have rolled back for John. Two wins and a draw before the Whittington challenge, all against higher graded opponents. The early going suggested his mini-run would be grinding to a halt, he was on the ropes after White took control of the centre, a Pawn up, with two linked passed Pawns. John got a Knight trapped and was ready to resign, but his fortunes changed, he added: "With a last desperate throw of the dice, I went for a Bishop sacrifice for one of White's queenside passed Pawns and it bamboozled my opponent. A flurry of exchanges followed, after which I was up by two Rooks to a Bishop, Knight and Pawn. My opponent then promptly resigned, on move 24."
The two captains, René Butler (me) and Stewart Gordon met on board six. Another Scandinavian, this time employed by René. Nothing remarkable until René made a backwards Knight move, hoping to catch Gordon off guard. It worked and a Rook was taken for free. The simplification process began, a and b Pawns were pushed. Game over.
Mike Garland, with White, came up against John Glover, thought to be Leicestershire and Rutland's oldest league player. Yet another Scandinavian. Glover was well measured in his setup. In the middle game Mike calculated a Knight sacrifice for a solitary Pawn. The risk was worthy as it led to a powerful attack paving the way for three passed Pawns and then a capturing of a Knight. Mike didn't bother queening his free Pawns, he found checkmate. Mr 4NCL, doing his thing.
When Gary's loss arrived on board four Robert Mills soon fell on board three against Peter Hickman. Our lead was cut to 3-2. Mills with the White pieces played e4, a Petrov materialised. Robert said Black's most influential piece was his Knight on e4, dictating much of the game. The board was congested for more than an hour and a half, there were very few exchanges. Robert missed chances to unblock the centre for a space advantage. Eventually, Robert became irritated with Black's Knight on e4 and chose to evict it with a Bishop. However, this was the beginning of the end. The exchange created an open C file, Black loaded a Queen and double Rook battery. Boom.
Board Five became the pivot. All we needed was a draw from George Gowers, who was playing with the White pieces for the first time in a league match. George opened with The Austrian Attack; Pawns occupied e4, d4, f4 within the first four moves. George's opponent, Ric Dawson, set up with The Pirc. Black seemed to use a lot of energy with his Knights…but their play didn't lead to anything favourable. When George castled queenside, Black had a reasonable advantage (so say Li Chess) – if they could locate a mega exchange involving a Bishop sacrifice then royal fork. The trade went something like: Bishop and double Knight – for George's Queen and two of his Pawns. To spot that would have been high level play indeed. It wasn't found. Instead, George slowly took control as the middle game progressed. Six to five Pawns up with a good Knight and Rook v Black's not so great Bishop and Rook. If you were a betting man, you would have lumped on George. Li Chess certainly fancied him, according to their engine he had a 3.8 advantage. Dawson, however, offered a draw. George accepted, proving his worth to the collective. The result gave Harborough a 3 ½ v 2 ½ victory. Five wins from five…and we're still top of the table. For now.
By the way, the Coca Cola image above has nothing to do with this match. I've bid for the novelty set on eBay. It is so grotesque, I actually like it.