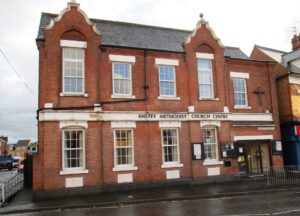 28/10/2021
Anstey 2 v Market Harborough 3
Score: 0-4
By Rene Butler
When playing a late Autumn fixture in a church hall you should bring an extra layer of clothing, suitable for fighting off two and a half hours' worth of cold at the chess board.
For Anstey's new venue, a Methodist Church in the centre of the village, just bring t-shirt, shorts and flip-flops. It is that sweltering.
Playing tables are positioned with the away teams facing the altar.
Thankfully for Harborough Three we required no holy intervention. It was a straightforward victory against a mainly inexperienced Anstey Second Team.
John Oliver, with the white pieces faced Anstey's, Mike Griffiths, the only Anstey player with any tangible chess experience. John opened with d4. Everything steady. The middle game seemed to consist of equal trades other than John profiting from a central Pawn without reply, something that provided a pivotal advantage once a Rook and Pawn end game was reached. Immediately after his win, John departed. Yes, the heat. Not even his good friend John Robinson playing a social game on the other side of the hall was enough to keep him back. Robinson has been recruited to play for Anstey's First Team and will be an asset for the inexperienced players who have recently joined the club.
Robinson sat next to a bumper book of his own chess games, was the picture of concentration. Something of a chess journeyman, he counts The Leicestershire Club, Highcross, Wigston, Braunstone and Syston as former homes and is said to have a scorecard for every single league game he's played, dating back to the 1950s.
At the other end of the chess mileage spectrum, Harborough's Gary Joy as White, won on board three after employing the London System against his young opponent. Joy said: "The opening was pretty even but in the middle game we both pushed with some offensive tactics. I gave up a Rook-fork for a discovered check and a second Queen."
Analysing the game that evening, Gary noticed he had illegally castled. The matter was brought to Anstey's attention, with secretary Ben Vaughn concluding nothing could be done after the game.
The two captains met on board four. Oskar Rudczenko as White against René Butler. Rudczenko opened with d4, nc3 and e4. Unwittingly, my reply was the French Defence: Winawer Variation.
Seizing on an early blunder from Rudczenko, my Queen was able to capture a Pawn, then a Knight with check. White's dark squared Bishop on b4 which had begun the sequence by taking my Bishop in error, was removed also. A further free Pawn grab on b2 was declined as I did not want White to have a semi-open file for his Rook.
The remainder of the game involved White's Queen zooming around hunting for tactics, all moves were defended until a lapse in concentration almost opened the door ajar for White. Further material was won for Black before belatedly casting on move 26. White's response was to resign knowing there was no way through being down a Knight, Bishop and Pawn.
The match result was completed by Amrik Tahim on board two. An impressive outcome given Amrik's travels that day. Harborough to Bradford, Bradford to Liverpool, Liverpool to Anstey. Just as remarkable was the fact our board two remained sat in his suit jacket. Calories burned 2,400.
Amrik replied to e4 with e5 and soon took control of the game, winning a Rook, Bishop and numerous Pawns. Multiple checkmate threats with his Queen and light squared Bishop were created. It was a won game. Then, the road miles began to take their toll. White's Queen checked and annexed a Rook. Was the comeback on? No. Amrik refuelled the mind and forced an exchange of Queens prompting White to chuck in the towel. Four nil to Harborough and another wave of redemption given Anstey's 2 ½ v 1 ½ success over us before lockdown – not that we were sweating it.
Credit to Anstey for finding the premises – a near impossible task for a chess club given room hire fees. No doubt the heat situation will be remedied, possibly when the gas bill arrives. Perhaps a friendly can be arranged at some stage…given the influx of new faces at both clubs.