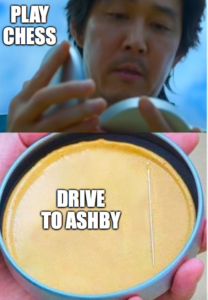 14th October 2021
Ashby 2 v Market Harborough 2
Score 3:4
By Mike Garland
On the 14th of October, Market Harborough made the south to north trip to play Ashby for their division 3 match. Both clubs are rich with players and opportunities for new comers and not content with playing the 4 boards set by the LRCA the two clubs played seven boards, something that is rarely seen; playing so many boards gave match a more of a feel of a county match. Among the seven boards Harborough took , was three new players to Over the board plus two recent players to join from Kettering Chess club, who have joined Harborough due to Northants chess not restarting yet.
Match report in order the games finished.
On board 7 Gary played his first ever league chess match, against David Holmes. Gary started his game with a familiar line; given being new to over the board, the time controls and atmosphere even the most simplest things must have been challenging for Gary. The game was even until Gary saw a chance and started his pawn storm and forced a blunder from his opponent in trying to defence on move 17. He pounced on the opportunity and a follow up mistake left the opponents king trapped with no defence and Gary's queen and rook aligned with David's King with nowhere to go. Giving Gary his first league win and Harborough a 0-1 score
On Board 6 George played his second ever match having played bottom board for the third team the round before and faced Neil Robberts the Leicestershire and Rutland under 1350 county captain. In only his second game George was surprised his opponent's "Birds Opening (f4)"; he navigated this with d5 and completed his development with a small advantage. George spots a knight fork to go up the exchange, before perhaps fortuitously going up a whole rook as all the minor pieces are then traded with the game centring around the blockade of whites c pawn on the 6th rank. The passed pawn is finally captured, with a battery of black's heavy pieces now standing on the open c file. A trade of rooks, a last gasp foray forwards by white, and black moves in with the queen with mate now forced. White resigns with his king pinned against the f4 pawn which had started the game 59 moves ago. Giving George the carer stats of played 2 won 2, and giving Harborough's lead 0-2
On board 5, Seasoned player Rob made the step up to the second team from the third, he faced off against Ashby's Captain Nick Wyld. The game started slow and with limited chances for a clear advantage. Both players settled down for a slow game. In the end game Rob tried for a win and left himself open to Nick's counter play that combined with the clock pressure was too much for rob. The result gave Ashby there first points of the night leaving the score 1-2
On board 3 Captain Mike faced a female opponent in the form of Liz Gist, female players are few and far between in this league. Mike is well known for his gambits in Harborough chess club and started with his favoured king's gambit. Having given up a pawn for early initiative and development Mike enjoyed the space advantage with the developed pieces. Forcing Liz to between her king and surround it desperately. Not content with a that Mike gambit'd a rook for a knight to try and weak his opponent's position. However, she managed to force some trades and swap off queens leaving Mike down a rook and a pawn to a knight going into the end game. Mike couldn't stop Liz's material advantage and lost, levelling the scores 2-2.
On board 1 Mark faced Larry Hayden in only his second match in the Leicestershire league. Mark's book knowledge is second to none down the club and he seemed happy to trade minor pieces and kept a strong solid pawn chain whilst his opponent did have a semi-open file to attack on, Mark kept his defence strong. With Larry's pawns weakened, by earlier trades that mark had forced, Mark started to roll his pawns down to Larry's king. This ate away at the clock trying to stop marks attack and an ill-fated attack on Mark's back rank was a long shot that Mark easily defended before unleashing his own attack combination of a check and gaining Larry's key defensive pawns before winning his queen freely. Advantage to Harborough again 2-3.
On board 2 Dave made a return to the Leicestershire league having spent many a year playing in the Northants league and face Steve Emmerton. If the car joinery made by Dave from Northamptonshire didn't tire him this game definitely did. Both played solid book openings and went into a middle game trying to trick each other with the constant threats and forks and pins being played for by both players. As the clock ran down for them both there was a late flurry of exchanges trying to trick one and anyone into a mistake. They both held firm and with less than 3 mins left each they decided that if they couldn't break each over over the past 150 mins then the next 6 wouldn't be any different and agreed the draw. 2.5-3.5
On board 4 Alistair played only his second over the board league match against Mick Brown. Alistair played online for the Harborough Cautro teams and has made the transition to over the board, sitting across a table from your player is a whole different experience than staring at a computer screen. However Alistair bring the same confidence shown on line to the board. Playing his own style and gaining knowledge along the way. His game came down to an endgame both with a rook and a handful of pawns each. Alistair took the space with his pawns leaving Mick on the back foot and only his rook causing a nuisance to Alistair. He took the chance to swap rook and relieve himself of this annoyance and got back to walking his pawns up the board. Needing only a draw to confirm the match win he pushed on and navigated a zuszang to make it 3 on 2 pawns to him. Alistair being new to the pressures with almost 20 players watching no risks were taken, the only way to hold on for a draw by Mick was combination of +8 computer moves, and he offered the draw. Giving Harborough the match 3-4
Thank you to our travelling reserve Rene who made the trip but was not required.