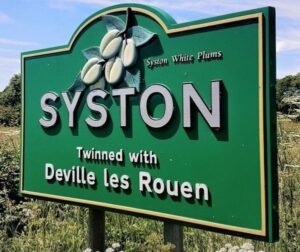 By Dave Walker
Sep 28th
In Division 1 Harborough 1 went down to Syston 1 in the first league match since lockdown.
The equivalent of Manchester City v Aldershot played on a filthy night of driving rain and queuing petrol seekers.
On Board 1 Ian Clarke was up against Mark Hebdens favoured Kings Indian, and you just have to admire the way that Leicestershire's only active Grandmaster squeezes every tiny weakness. That is why he is unbeaten in the league since records began in 2010. No disgrace in the result, and an honour to play a GM.
Dave Walker's French Defence was tested by Shabir, and a speculative piece sacrifice to get some counterplay, whilst possibly sound enough for a draw if all the right follow up moves were made, failed against some very accurate defence.
There was an absolutely typical Romilly game on board 3. He teased his opponent by spending an age on the opening moves, which looked a mess, eventually managed to untangle his pieces by about 9.00 pm, then somehow found that he had more time on his clock than his opponent. Rumour has it he possesses a time turner. He then offered a draw which Graham Sharpe took. Harborough's blushes saved, and a score on the board.
John Thomson went Dutch, and Syston's Brian Gallighan played a very calm double fianchetto, eventually kicked John Knight out of e4 and quietly converted the better bishops and structure in a mini Hebdeness sort of way.
So, 3 1/2 to 1/2
No disgrace against the reigning champions, a super strong Syston team whose board 4 out graded everyone from Harborough.
Every match will be easier from now on.