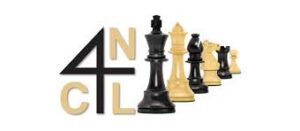 Four Nations Chess League 
Game day 1, Season 3 
Harborough Cuatro do drama. Last season's intense finale was mirrored by the first team in their opening match in season 3 of the Four Nations Chess League. With a 2-1 lead and less than 20 seconds on the clock in the last game, the match hung by a thread, at least that is what the spectators believed.
Top board Dave Walker doesn't seem to be fussed by time sensitivity. With the white pieces, he produced a masterclass in positional chess which began with castling Queen's side before trading his H file Rook for a Knight, painting black into a corner and creating a long diagonal defence with his King well-guarded. Dave's young opponent was stubborn forcing an endgame which resulted in zugzwang for black and victory for white. Harborough Cuatro 3 BCC Penguins 1. Bravo Dave, bravo.
Our opponents were underestimated by most of us. Their cuddly team name, their deceptively low grades, perhaps even their ages suggested an easy (ish) evening. When you start thinking like that in chess, you're in a world of peril.
That said, Jon Redding with the black pieces on board two dispatched his opponent quite easily after he opened with the Queen's Gambit. Jon's upward trajectory continues. Mike Garland Jr also won, on board three, seizing on unstable pawns around his opponent's King which allowed Mike's two Rooks on the seventh rank. Another King's Gambit victory for Mike. So, the first team make a winning start to life in Division 5.
Harborough Cuatro debutants made up the remaining five boards. Alistair Geear on bottom board for the first team and four players for the newly launched second team. Alistair took up chess little over a year ago when he began playing against his flatmate. This was his tournament bow. Everyone at Harborough Cuatro has been impressed with Alistair's online play, so too were 4NCL who estimated his grade at FIDE 1900. We managed to negotiate down to 1600 which is 120 in old money ECF. Alistair succumbed to the curse of many tournament novices by rushing. A Queen blundered early with only a Bishop in compensation. A friendly afterwards showed that in most circumstances Alistair had the beating of his opponent. Chess is cruel, but if you twig the game naturally as Alistair seems to, managing the clock is minor roadblock.
The second team lost 4-0 against Colchester JFF A. Colchester's top board had a FIDE grade of 2278 (allow for a slight fluctuation) while the ECF have him graded at 191. Robert Gibbison, a Harborough over the board player, faced the English opening from this lofty opponent. The game went to 48 moves which is more than respectable.
The remaining three boards for the second team were not quite so out-graded even though they all resulted in losses. A huge welcome to Mick Garland Snr, (Mike Garland's dad), his Latimer teammate Granville Hill and also Bob Collins of Thurnby. All three will be playing for Harborough Cuatro's second team this season in the newly established Division 7, a division which appears to have a huge range of abilities owing to the fact that many, if not all, new teams begin there. We should be encouraged by the gritty play of the second team. With luck and perhaps even a sprinkling of skill, we'll not receive too many more bagels or scores of zero as they are more commonly known.